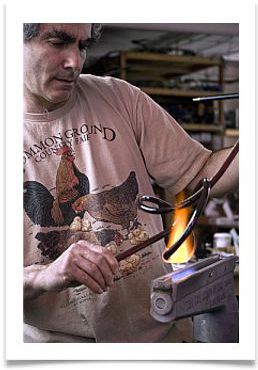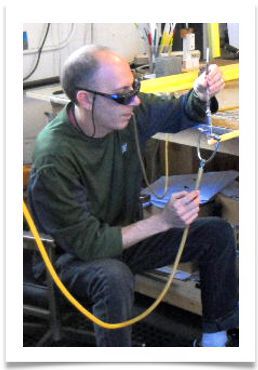 The Neon Experience (2 days)

Time: 10 AM to 5 PM Saturday & Sunday


Session 1: January 13, 14, 2018

No More slots available




Session 2: January 20, 21, 2018

No More slots available




Session 3: February 3, 4, 2018

No More slots available



Contact us to be on the mailing list for future workshops.



The Neon Experience

is an intro to and taste of all aspects of neon. It is the starting point for those who want to learn how to make neon and learn how neon can be used in their own projects.



This is a hands on experience that covers basic glass cutting, bending, and sealing skills and provides supervised practice over the different burners.

There will be demonstrations of how neon is processed, filled, and electrified to complete a luminous tube.




The intensive supervised glass bending experience is designed to help you start and in many cases complete your first neon project.



Maximum Class size: 5 Prerequisite: None
Workshop Cost: $495 for two days. Now includes 1 transformer & wiring kit.

Included: Clear glass & gas (for red or blue light), electrodes.
Pumping & filling - either same day or within 1 week.
Small Transformer & mounting kit.

-----------------------------------------------------------


Location: Krypton Neon LLC 2nd fl 526 46th Ave Long Island City, NY 11101



Easily accessible by all means of transport.

Note:

Please check the MTA weekend alerts.

Call 718-728-4450 or email info@neonshop.com with any questions.


-----------------------------------------------------------------

Our Teaching Staff

Kenny Greenberg trained at the New York Experimental Glass Workshop and founded

Krypton Neon

in 1981. He has created Neon Scenic Art and Lighting for Broadway Stage Productions, Feature Films, Television, Museums, and Corporate Displays.

He has also created and collaborated with numerous world class artists.

He consults for corporations and designers and has written articles for Signs of The Times and Sign Business Magazine. H

e also designs electronic circuitry and computer software.

His Interactive Neon Art has been shown in museums and galleries. He holds a patent in neon control technology.



Tom Unger

joined

Krypton Neon

in 2002. He has international experience as a neon glassblower, lampworker, and neon artist. His work is in theaters, museums, books, private collections and public spaces. He started learning the craft of neon while working for a commercial sign shop in Boston, and then went to Holland and Italy to study European neon glass bending and processing. In New York, he worked in production, R&D, and marketing for one of the world's largest manufacturers of neon raw goods and processing equipment. Tom has written articles for Sign Business magazine and contributed a chapter for The Neon Engineers Notebook. He is a graphic designer, and has designed and developed corporate websites and brochures.