Indepth Arts News:
"The Magic of Light: Artists Focusing on Non-Traditional Media"
2002-02-01 until 2002-05-19
Hudson River Museum
Yonkers, NY, USA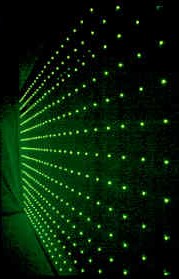 We cannot touch or hold it, but we can see it, and with it, see our world. Light defines our physical, visual and mental experiences. It determines how we move and stirs our emotions. Opening on February 1 at the Hudson River Museum, The Magic of Light examines light art as physical sensation. Magic presents work by 14 artists who changed the nature of art by using light - rather than paint or stone - to create. Their artworks move away from the traditional art object and focus, instead, on the viewer's perceptions.
The Magic of Light displays the work of both established and emerging American artists. James Turrell, part of the Light-and-Space movement of the 1960s and 1970s along with Robert Irwin, works with pure light, while his main goal is the viewer's highest visual and physiological perception. Magic also shows how the vocabulary of these seminal artists is reexamined by the recent work of artists like Susan Chorpenning. Her work, Backtrack, presents a shifting reali