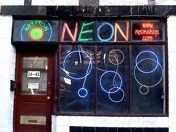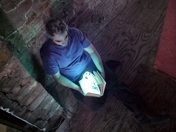 Kenny Greenberg

trained at the New York Experimental Glass Workshop and founded

Krypton Neon

in 1981. He has created Neon Scenic Art and Lighting for countless Broadway Stage productions, Feature Films, Television Broadcasts, Museum and Corporate Displays. He consults for corporations and lighting designers and he has written articles for Signs of The Times and Sign Business Magazine.


In addition to his skill as a neon glassblower, he designs electronic control circuitry and computer software.

His Interactive Neon Art has been shown in several museums and galleries. He has also created and collaborated on numerous prominent public art installations.